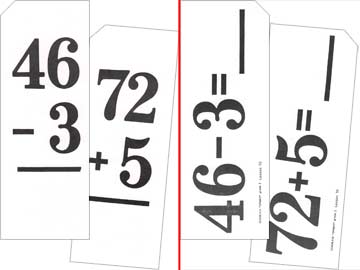 Grade 2 Schoolaid Math - Adding & Subtracting by Endings Flash Cards
148 cards, 3" × 8"
Adding and subtracting by endings is an old fashioned idea that really works. The first step to this is introduced in Lesson 29B in "Continuing Numbers with Spunky", grade 2 Schoolaid Math. The front of each card shows the problem vertically, and the reverse shows the same problem in horizontal format, along with the lesson number in which the card is used. No answers are included with these cards.
Be sure to follow the teacher's manual when introducing this concept, especially when you come to carrying mentally. If not introduced properly, it can be confusing.
Like any other skill you teach, there will be some students who take right off with it. But we do not want to neglect those that need more help to master a skill. Use flashcards as an aid in practicing besides the other ideas given in the book. Any student who can learn automatic response in basic addition and subtraction can also learn this because it is merely putting to use what they have already learned.
Once students understand that it is only a matter of forming the habit to do some things mentally instead of writing everything down, they can program their minds to forming that habit. But for the student who needs more practice to acquire this habit, it takes a caring and resourceful teacher to help him to it. Persevering, or persistence is the key.
Contains:

19 cards for lesson 29
18 for 36
21 for 43
20 for 50
20 for 60
24 for 98
25 for 130
1 (lesson assignment missing)
Customers who bought this product also bought