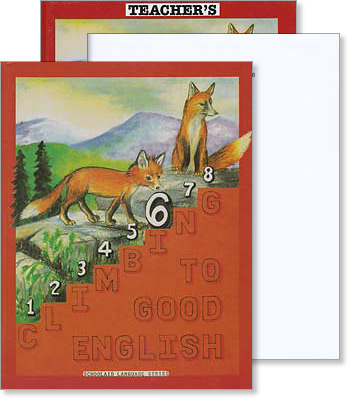 Grade 6 Climbing to Good English - Set
This Schoolaid Language Series is designed by Schoolaid to complement the Pathway Reader Series by extending in phonics and reading comprehension, grammar and composition.
Grade 6 contains parallel contents to Grade 5. The lesson instructions and the teaching suggestions will apply to both grades. The exercises for grade 6 will generally be harder and require more work than grade 5. There are 108 lessons, reviews, and unit tests in each grade, divided into twelve units. (Designed for scheduling 3 lessons per week.) For easy reference, a language Handbook and abbreviated Thesaurus are included at the end of each workbook.
A booklet of 70 practice sheets with reinforcement exercises is available for each grade.
The hardcover teacher's manual contains general teaching tips, as well as suggestions and answer keys for each lesson. The answers to the practice sheets are at the back.
Table of Contents

Introduction
To the Teacher
Some General Tips on Teaching Language

Unit I

1. Introducing the Study of Our Language
2. Composition
3. Sentences
4. Fragments and Run-ons
5. Writing Interesting Sentences
6. Combining Sentences; Revising
7. Proofreading
8. Unit I Review
9. Unit I Test

Unit II

10. Writing Paragraphs
11. Capitalization
12. Capitalization; Word Usage
13. Capitalization; Word Usage
14. Dictionary; Guide Words
15. Dictionary; Revising
16. Proofreading; Word Usage
17. Unit II Review
18. Unit II Test

Unit III

19. Personal Narrative
20. Using Commas
21. Periods and More Commas
22. Colons and Hyphens; Revising
23. Underlining; Proofreading
24. Summarizing
25. Proofreading; Capitalization; Word Division
26. Unit III Review
27. Unit III Test

Unit IV

28. Descriptive Writing I
29. Descriptive Writing II
30. Direct Quotations
31. Quotation Marks in Titles
32. Writing Dialogue
33. Revising; Contractions
34. Proofreading; Titles
35. Unit IV Review
36. Unit IV Test

Unit V

37. Comparisons and Contrasts
38. Nouns; Using A and An
39. Common and Proper Nouns
40. Singular and Plural Nouns
41. Possessive Nouns
42. Revising; More Possessives
43. Possessives; Proofreading
44. Unit V Review
45. Unit V Test

Unit VI

46. Friendly Letters
47. Action Verbs; Subjects and Predicates
48. Linking Verbs; Verb Phrases
49. Principal Parts of Verbs
50. Compound Subjects and Predicates
51. Simple and Compound Sentences
52. Writing Business Letters
53. Unit VI Review
54. Unit VI Test

Unit VII

55. Studying Poetry
56. Recognizing Pronouns
57. Objective Case Pronouns
58. Possessive Case Pronouns
59. Subject-Verb Agreement
60. Practicing Pronouns
61. Diagraming Pronoun Subjects
62. Unit VII Review
63. Unit VII Test

Unit VIII

64. Skimming and Summarizing
65. Adjectives
66. Proper Adjectives; Diagraming
67. Predicate Adjectives; Revising
68. Using Adjectives in Comparison
69. Comparing Irregular Adjectives
70. Using Adjectives Correctly
71. Unit VIII Review
72. Unit VIII Test

Unit IX

73. Writing Book Reports
74. Adverbs
75. More Adverbs
76. More About Modifiers
77. Reviewing Modifiers
78. Revising; Reviewing Parts of Speech
79. Double Negatives; Proofreading
80. Unit IX Review
81. Unit IX Test

Unit X

82. Taking Notes and Writing an Outline
83. More on Notes and Outlines
84. Prepositions
85. Prepositional Phrases Used as Adjectives
86. Reports; Prepositional Phrases
87. Conjunctions; Using Whose and Who's
88. Interjections; Using Prepositions
89. Unit X Review
90. Unit X Test

Unit XI

91. Writing Exposition I
92. Writing Exposition II
93. Complements; Direct Objects
94. Indirect Objects
95. More About Objects; Revising
96. Linking Verbs; Subjective Complements
97. Subjective Complements; Word Usage
98. Unit XI Review
99. Unit XI Test

Unit XII

100. Reviewing Capitalization
101. Reviewing Punctuation
102. Reviewing Letters
103. Reviewing Nouns and Pronouns
104. Reviewing Verbs
105. Reviewing Adjectives and Adverbs
106. Reviewing Prepositions, Conjunctions, and Interjections
107. Reviewing Sentence Patterns
108. End of Term Test

Practice Pages
Thesaurus
Handbook
Customers who bought this product also bought
Customers who viewed this product bought