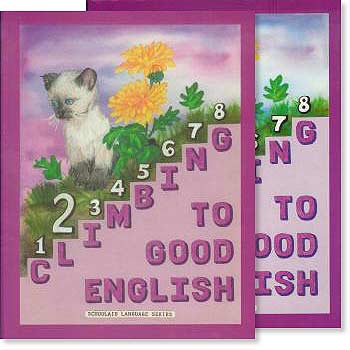 Grade 2 Climbing to Good English - Set
This Schoolaid Language Series is designed by Schoolaid to complement the Pathway Reader Series by extending in phonics and reading comprehension, grammar and composition.
Language skills taught:
Phonics skills reinforced.
Penmanship improvement practiced.
Capitalizing sentences, names of people, places, days, months and holidays.
Punctuating ends of sentences, abbreviations, initials, greetings and closings of letters, dates, after yes and no.
Working with compound words, plurals, contractions, possessives, suffixes, prefixes, synonyms, antonyms, homonyms.
Reading respellings and using the dictionary.
Dividing words into syllables and listening for accents.
Learning the concept of nouns, verbs, modifiers, prepositions, and prepositional phrases.
Practicing correct usage of some verb forms.
Writing original sentences, letters, stories, and book reports.
Customers who bought this product also bought
Customers who viewed this product bought