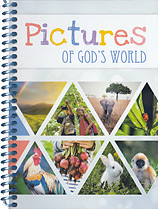 Pictures of God's World - Mini Picture Book
Paper (plastic coil bound) cover
64 pages
0.464 lbs
Item #34-PIC-PGW
Also available in this set.
Size: 5"×7"
Discover God's wonderful world page by page! See a fly up close, take a hike in the woods or through the jungle, watch a caterpillar become a butterfly, and lots more!
On each page spread look for our friend Ronnie the Rabbit. He may be sitting quietly or hopping excitedly, just waiting until you discover his hiding place.
Customers who bought this product also bought
Customers who viewed this product bought