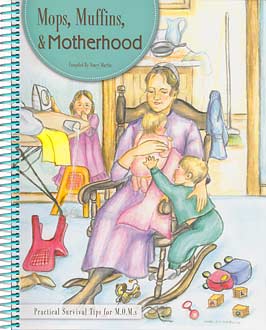 Mops, Muffins, and Motherhood - Practical Survival Tips for M.O.M.s
Paper (spiral bound) cover
184 pages
1.32 lbs
Item #33-2203
Mops, Muffins, & Motherhood is not a do-as-we-say-and-your-life-will-be-perfect sort of book. It is not a step-by-step manual to a perfect life. This book is a compilation of practical survival tips spun with rare charm and enlivened with a dash of humor. It is spiritually refreshing and full of understanding, but it will not solve your problems; that is up to you and God. Mothers everywhere face difficult situations... because that is real life. But God is always there to help... because He cares!
Motherhood brings duties for which there are no job descriptions and must be accomplished with no formal training. Enlightening chapters on who you are: as a Christian, as a wife, as a mother; on devotions and prayer life; on the blessing of children; on meeting the day to day demands of a growing family will help you come to grips with the awesome job God has given you. Enjoy a section with meal ideas, and an entire chapter of favorite recipes from Homemade Cereal to Amish Vanilla Pie.
God bless your efforts to serve Him in the career to which you have been called—Motherhood. This book was written for you, by others like you!
Contents

Dedication
A Note to the Reader
The Foolishness of Comparisons
Who Am I?
...As a Christian?
...As a Wife?
...As a Mother?
A Note from Nancy

Part 1: Practical Tips

1. Spiritual Refreshment—Devotions & Prayer Life
2. And Then There Were Two—Honoring Our Husbands
3. Adding Blessings—Children
4. Time to Learn—School/Homeschool
5. Ready for Company—Housework/Housecleaning
6. Flapping in the Breeze—Laundry
7. Feeding the Hungry—Food Preparation/Serving
8. Preserving the Bounty—Freezing/Canning
9. The Great Outdoors—Garden/Yardwork/Flowerbeds/Chores
10. What Shall We Wear?—Clothing/Sewing/Crafts
11. Paying the Bills—Bookwork
12. Let's Go on a Trip—Traveling/Packing
13. A New Home—Moving
14. Leftovers—Miscellaneous

Part 2: Recipes

Our Meal Ideas
The Recipes

Part 3: Charts & Lists
Customers who bought this product also bought
Customers who viewed this product bought