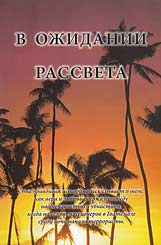 Russian - Awaiting the Dawn
Paper cover
141 pages
0.202 lbs
Item #3-36008
Russian edition of Awaiting the Dawn.
---
For ages 16 though adult.
The front door groaned under the blows that threatened to break it down, and the whole house seemed to shudder.

Trembling, Marie peered through the curtain. A chill shot through her body. There was only glass between her and three masked men who were pacing on the porch, hacking the door with their gleaming machetes.

Three gunshots exploded outside the house, splintering through the front door...

"It is because we care about your people that we come to your country," John began quietly....

"You talk to the villagers against the guerrillas," the gunman cut in impatiently....

...Marie froze. The realization of what was about to take place stabbed her heart like the blade of a machete. "You can't..." she cried in anguish....

Across the mountains echoed an agonized, heart-rending cry.
Awaiting the Dawn takes the reader though the dark night of trauma and grief the Troyer family experienced at the hands of terrorists in Guatemala. The final chapters show the unexpected ways God brought healing to bleeding hearts.
Customers who bought this product also bought
Customers who viewed this product bought