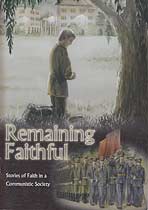 Remaining Faithful
Paper cover
80 pages
0.17 lbs
Item #3-35221
And Other Stories of Faith in a Communistic Society
For a young man of only eighteen years, Nikita Ivlev knew well that military service was no easy thing. Never would he forget the day when he received a summons to serve his mandatory term of service in the Soviet army. There would be mocking and brutal treatment from other soldiers and the officers. He knew that believers were often punished for refusing to bear arms and to take the oath of allegiance. Now it was Nikita's time to face these trials.
It was the spring of 1982, and persecution of Christians in the Soviet Union was still widespread. Earlier in the year, news of a brother who had died in the army had spread quickly among the Christians. Others before him had also been tortured and killed for refusing to take the oath of allegiance and for witnessing to those around them about Christ. Although fear gripped his heart, Nikita, who had only recently repented and been baptized, accepted that God may have something similar in store for him.
Read this book to learn how Nikita relates to these formidable events in his journey of life.
Contents

Remaining Faithful

1. The Only True Way
2. At the Army Base
3. Called to Headquarters
4. Army Life
5. The Deputy Political Supervisor
6. The Oath
7. Division Headquarters
8. The Construction Unit

Other Stories

The Price of Faithfulness
A Church and a Wall
Triumph in Disappointment
Remember Them That Are in Bonds
The Locked Gates
The Gates of Hell Shall Not Prevail
A Prisoner Returns
The Most Valuable Lesson
Customers who bought this product also bought
Customers who viewed this product bought