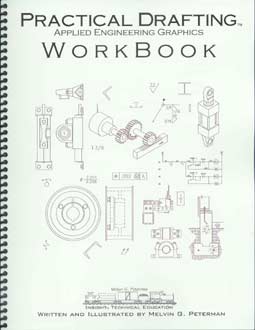 Practical Drafting - Applied Engineering Graphics
Paper (spiral bound) cover
136 pages
0.88 lbs
Item #24-PD
(This course is not published by Rod and Staff Publishers.)
Practical Drafting was created for students to learn on their own, at their pace, without outside instruction. Practical Drafting starts at the beginning with lines and sketching and quickly builds to a level that goes beyond standard high school drafting courses and even beyond the university level. It exposes the student to many types of drafting and standards.
This book of 136 pages includes over 30 pages of reference materials and focuses on the things that are important in today's engineering world. The goal of this course is to assist the student in mastering some drafting concepts and the art of drafting. Through the use of Practical Drafting, the student learns to read and understand engineering drawings and drawing concepts by reading and doing the work. The book promotes drafting as a stepping stone to other career options such as engineering, architecture, industrial design, etc. It is imperative that all participants, drafters, designers, engineers, machinists, electricians, builders, etc., understand the language of engineering. The study is built with the intent of helping to promote the use of manual and computer drafting skills. All the lessons in this book may be accomplished both by hand and with CAD.
Recommended for ages 13 and up—Junior High through High School, or for the adult that wishes to gain a better understanding of the subject.
If you plan on having your student take this course, you may want to have them first work through the Complete-A-Sketch series in earlier grades.
Additional materials needed:
small drafting board
T-square
2 Scales, English and Metric
Isometric circle template
Triangle 45° x 45° x 90°
Triangle 30° x 60° x 90°
Dictionary
Bow compass with center adjust
Dividers
Mechanical Pencil, .9mm
Mechanical Pencil, .7mm
Mechanical Pencil, .5mm
Mechanical Pencil, .3mm
Eraser, white for paper
Eraser shield
Drafting tape
8.5" x 11" paper
11" x 17" paper
Contents

Forward
1. Lines and Lettering
2. Drafting Tools
3. Geometric Shapes and Constructions
4. Sketching
5. Multiview Drawings
6. Break-Away View and Sections
7. Dimensioning and Annotation
8. Allowance, Tolerance, and Fit
9. Surface Texture
10. Threads and Fixtures
11. Welding, Symbols, and Joints
12. Sheetmetal and Planar Developments
13. Gears
14. Piping
15. P and I D
16. Electrical Schematics
17. Perspective
18. Oblique
19. Problem Solutions
20. Reference - Contents
Customers who bought this product also bought
Customers who viewed this product bought