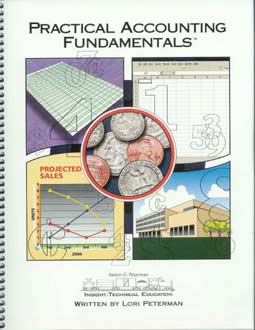 Grade 9 Math - Practical Accounting Fundamentals
Paper (spiral bound) cover
171 pages
1.12 lbs
Item #24-PAF
(This course is not published by Rod and Staff Publishers.)
What could be more practical than learning the fundamentals of accounting? With Practical Accounting Fundamentals, we offer a useful, relevant book that will aid your student no matter what career path they choose. Understanding accounting and accounting practices will benefit for life.
The purpose of this book is to give the student a foundation in the accounting process and to enable them to be able to account for any business activities they may be involved in. Secondly, it will help them to decide if they wish to pursue bookkeeping or accounting as a career. Practical Accounting Fundamentals challenges the student with twenty-one chapters of step-by-step, self-paced, self-teaching materials. Each chapter starts with an overview of what is to be learned, followed by a clear example. The student learns by doing the work. Each chapter builds on the previous one and has exercises to reinforce the concepts. In addition, there are two mid-term tests and a final exam. All the exercises and tests have the answers in the answer key at the end of the book.
Understanding accounting is important in any business because it is the basis of business communication. It is important because it is the basis of business communication. It is important to know the difference between a balance sheet and an income statement. So, whether the student is interested in starting their own business, being an accountant, working as a bookkeeper, or just adding to the depth of understanding, Practical Accounting Fundamentals can help.
Recommended for Junior High through High School, or for the adult that wishes to gain a better understanding of the subject.
Additional materials needed:
4-column ledger paper (ignore columns when you don't need them; here is a source for printable 4-column ledger paper)
10-key printing calculator (this is a basic piece of office equipment and can be easily learned on your own with some practice; knowing how to run a 10-key by touch is as important as knowing how to type by touch)
If you prefer, you may use a computer and a spreadsheet program like Lotus® 1-2-3® or Microsoft® Excel. There are also free/cheap spreadsheet programs available on the Internet, such as OpenOffice Calc or Google Docs and Spreadsheets.
Content

Forward
Introduction
1. What is Accounting?

Accounting vs. bookkeeping
GAAP
Technology

2. The Balance Sheet

Financial statements
Assets
Equities

3. The Income Statement
4. Statement of Retained Earnings

Retained earnings
Dividends

5. Statement of Cash Flow

Cash flow
Dividends
Equity accounts

6. Transactions

Information system
Transactions
Assets

7. Journal Entries and Accounts

Accounts
Debit / Credit
Journal entries

Test 1
8. Chart of Accounts

Account categories
Typical accounts

9. Posting to the Ledger

Transactions
Ledger
Trial balance

10. Income Determination

Periodic Financial Statements
Fiscal Period Assumption
Revenue Recognition and Matching Assumptions

11. Adjusting Entries

Depreciation
Nonoperating items
Extraordinary items

12. Closing Entries

Closing Entries
Worksheets
Accounting cycle

13. Accrual vs. Cash Accounting

Cash basis accounting
Net cash flow

14. Cash

Cash
Petty cash
Bank accounts and reconciliations

15. Marketable Securities

Marketable securities
Dividends and interest
Valuations of marketable securities

Test 2

For chapters 1 - 15 with a focus on chapters 8 - 15

16. Receivables

Discounts and returns
Credit balance receivables
Bad debts

17. Payables

Accounts payable
Gross method of purchase discounts
Net method of purchase discounts

18. Inventory
19. Long-lived Assets

Valuation of property, plant, and equipment

20. Other Forms of Business

Sole proprietorship
Partnership
Limited Liability Company (LLC)

21. Payroll

Payroll register
Employer taxes
End of period adjustments

Test 3

Final test for chapters 1 - 21

Answer Key

Answer key for exercises and tests

Resources

Organizations, publications, and where to look for other information

Index
Customers who bought this product also bought
Customers who viewed this product bought