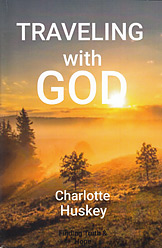 Traveling with God - [Hightower Book Series]
Paper cover
182 pages
0.516 lbs
Item #21-05
From the Hightower Book Series.
This is the fifth book in a series of memories from the mission field, written by Charlotte Huskey. Read about God repairing their old station wagon in an answer to prayer. Catch fish with them on a warm moonlit night. Tremble with Charlotte when bandits hold her and her friends at gunpoint.
May the miracles shared in these books inspire readers to dedicate their lives to God and His service.
Contents

Prologue
1. Call to Go
2. My First Trip to Monark
3. A Time to Die
4. Saved from Death
5. Leaving Our Home
6. Going to Visit Grandma in a Blizzard
7. Angels All Along the Way
8. Angels in Batesville
9. Two Healings
10. Buckets of Fish
11. An Artist Without Hands
12. Driving Across Mexico
13. Rancho Los Martinez
14. No Bible in the Entire Village
15. What Are We Doing Now?
16. Wow! Five Dollars
17. Come and Help Us
18. The Wreck
19. A Blessing in Disguise
20. Preaching in Cañas
21. A Miracle in Chili
22. God Repaired Our Car!
23. Bandits at Midnight
24. New Friends
25. Bible Confetti
26. Stranded in the Sanora Desert

Live in Me
Acknowledgements
About the Author
Also by Charlotte N. Huskey
Customers who bought this product also bought
Customers who viewed this product bought