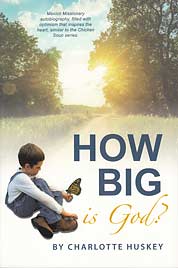 How Big Is God? - [Hightower Book Series]
Paper cover
167 pages
0.682 lbs
Item #21-03
From the Hightower Book Series. A sequel to A Faithful Father.
This is a compilation of true life events experienced by a young couple who dared to follow God's leading. James and Charlotte Huskey's faith and confidence in God were deep. They did not hesitate to obey God's call to go to the mission field. This led them through many dangerous and exciting adventures.
Charlotte gives a first-hand account of how God supplied needs when it seemed impossible. She tells about James' arrest, of emergencies with no way to send for help, and how they were stranded in a burning desert. She relates how God miraculously healed their bodies, sent help just in time, and directed their lives.
This book is an excellent resource for parents who desire to build their children's faith. At the end of each episode there are questions for discussion. Children will look forward to family worship time. It will provide an excellent opportunity to help them see that God is real and that His way is truly best.
Contents

God's Way Is Best
Introduction

Moving to Baja
Our First Day in Mexico
No Birthday?
The Birthday Gifts
Church Service in Rosarito Beach
The Broken Clothesline
No Telephone
The Motorcycle Accident
Fun at the Beach
Fish for Supper
A Fearful Night
Lost in the Desert—Trouble Ahead
The Broken Water Jug
Sleeping on the Sand
Food and Water
Home Again
Spreading God's Word
Stranded in the Desert
Strange Gifts
Arrested!
A Time of Fear
Freedom!
A Mysterious Visitor
The Tornado
Ramona Visit President Lopez Mateos
The Missing Pony Tail
10 Hamburgers for $1.00
A Healing Miracle
Shoes for Tim
A Great Christmas

Acknowledgements
About the Author
Customers who bought this product also bought
Customers who viewed this product bought