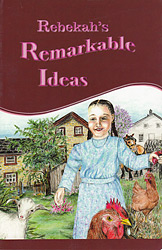 Rebekah's Remarkable Ideas
Soft cover
180 pages
0.498 lbs
Item #20-9085
Also available
used
$5.97
According to her siblings, Rebekah has the most remarkable ideas.
"But Rebekah, you already have a doll table and chairs." Catherine stretched to reach a raspberry in the middle of the patch. "What would you want with another set of doll furniture?"

Rebekah plucked a raspberry, popped it into her mouth, and chewed it carefully before she replied. "I guess you'll just have to learn to accept it," she said, "that I like trying to make things myself even when I don't need them. I don't know what would happen to me if I would never invent anything unusual. Something not—not nice."
Written with eight- to ten-year-olds in mind, Rebekah's Remarkable Ideas also appeals to adults reading it aloud to younger children.
Table of Contents

1. Ink Ideas
2. Dream Trip to Niagara
3. Indian Fundraiser
4. Wishes and Wieners
5. Mud Dishes for Marianne
6. Bagels
7. The New Bridge
8. Back to School
9. Grade Three Wisdom
10. Two Brave Butchers
11. How to Eat Applesauce
12. Everything Pink
13. Speeches and Sing School
14. Lavern's Turn
15. That's Odd
16. Popcorn in the Air
17. Books and Bugs
18. Pineapple and a Party
19. Rebekah's Remarkable Ideas
20. Grandmother's Sheets
21. The Mysterious Glass Box
Customers who bought this product also bought
Customers who viewed this product bought