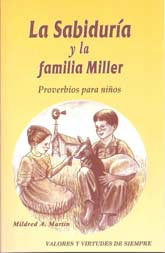 La Sabiduría y la familia Miller [Wisdom and the Millers]
Haga que los proberbios cobren vida para los ninos en su iglesia, hogar o escuela! Aqui hay una coleccion de historias estimulantes y animados para la formacion del caracter. Cada capitulo explica y ilustra un pasaje del libro de proverbios, junto con una historia basada en experiencias de la vida real.
Siga a los cuatro ninos de la familia Miller mientras aprenden grandes verdades de la vida y la sabiduria; unas veces por las historias que les cuentan sus padres y otras mediante amargas experiencias. Podra la oracion de un padre mantener a salvo a su familia del ladron? Por que tuvo Timmy una hemorragia nasal en la reunion familiar? Y que triste historia se oculta tras el taburete roto de su madre? Lea estos y otros veintidos emocionantes relatos.
Customers who bought this product also bought
Customers who viewed this product bought