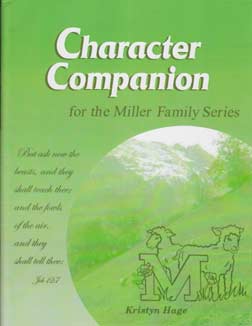 Character Companion for the Miller Family Series
Paper cover
60 pages
0.43 lbs
Item #20-515
This storybook is a companion to the storybooks in the Miller Family Series. It is designed to help children of all ages apply the truth of God's word to their daily lives. You can make this workbook adaptable to various ages by using some or all of the activities.
50 character qualities to instill into your child's life!
Related Bible verses to build on
Story references from each of the Miller Family storybooks to reinforce the character quality
Synonym and Antonym exercises
Character quality matching exercises
Word building practice
Opportunities to expound Scripture
Focusing on one character quality for about a week provides opportunity to enjoy the suggested Miller stories and to apply the Scriptures studied.
Contents

Introduction and Instructions

Alert
Attentive
Brave
Confident
Content
Diligent
Discerning
Disciplined
Encouraging
Faithful
Forgiving
Friendly
Generous
Gentle
Godly
Good
Helpful
Holy
Honest
Humble
Innocent
Joyful
Kind
Knowledgeable
Loving
Meek
Merciful
Neat
Obedient
Patient
Peaceable
Persevering
Prudent
Quiet
Resourceful
Respectful
Responsible
Self-controlled
Serving
Submissive
Thankful
Thoughtful
Truthful
Unselfish
Valiant
Wise
eXemplary
Xenophilic (Hospitable)
Yielding
Zealous
Customers who bought this product also bought
Customers who viewed this product bought