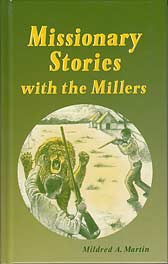 Missionary Stories with the Millers (hardcover)
Hard cover
205 pages
0.96 lbs
Item #20-505-H
Thrilling adventure stories of real Christian missionaries for all ages.
A book from the Miller Family Series.
Experience thrilling adventure as the Christian missionaries on these pages meet witch doctors, disease, drought, hate-filled guerrillas, a Bible thief and killer cats!
Best of all, each one of these stories is based on an actual happening from lives of real people. Follow these missionaries as they respond to God's call. Some of them miraculously escape danger, while others face martyrdom for Christ--but the soldiers of cross always win in the end!
Author's Note

Although the "Miller" family setting is partly fictional, all of the missionary stories are about real people and based upon incidents which actually happened. Many of the details, however, have been supplied by the author's imagination. For example, we do not know if Ato Desta (chapter 7) was singing a song when his would-be murderers were miraculously withheld from harming him; but it is known that the hymn Take the Name of Jesus with You, was one of his favorite songs. I have done my best to provide geographical information and backgrounds of "local color" that are authentic and true-to-life.
Contents

Intro. The Dollar That Grew (United States)
1. They Were Not Afraid (Congo)
2. The Stolen Testament (Egypt)
3. The Yellow River (China)
4. Chief Sechele's Daughter (Africa)
5. He Wasn't Crazy (Belize)
6. Rain Out of the Ground (New Hebrides)
7. They Are Going to Kill You! (Ethiopia)
8. Too Busy Fishing (China)
9. Mamma Lillian (Egypt)
10. The Shotgun That Wouldn't Fire (Mexico)
11. Jim Elliot and the Auca Indians (Ecuador)
12. The Miracle From the Meadow (Romania)
13. She Changed Her Mind (India)
14. The Tiger Is Loose! (Peru)
15. Saved in the Night (India)
16. The Talking Tortilla (Mexico)
17. Martyred at Midnight (Guatemala)
18. A Modern-Day Elijah (Korea)
19. A Fortress in the Church (Armenia)
20. Temple Runaway (India)
21. Only One Page (Poland)
22. Day of Disaster (Alaska)
23. The Boy Who Was Determined (India)
24. A Dust Pan for Jesus (South Africa)
25. The Man with the Gospel Papers (United States)
26. The Missionary Says a Bad Word (El Salvador)
27. Lost! (Belize)
28. Through Water and Fire (Canada)
29. Uncle Ralph and the Moose (Canada)
Customers who bought this product also bought
Customers who viewed this product bought