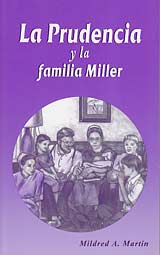 La Prudencia y la familia Miller [Prudence and the Millers]
Paper cover
196 pages
0.6 lbs
Item #20-503-S
Spanish edition of Prudence and the Millers.
---
¡Acompaña a los hijos de la familia Miller mientras aprenden acerca de la higiene, la seguridad y la cortesía... de la Biblia! Cada historia incluye un pasaje bíblico y ejemplifica various aspectos de la vida prudente.
¡Lee de la broma que terminó en tragedia, de las consecuencias vergonzosas de no dormir lo suficiente, de cómo Timoteo se pierde en una tienda grande, y del fuego en el Día de la Madre!
Customers who bought this product also bought
Customers who viewed this product bought