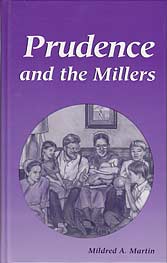 Prudence and the Millers (hardcover)
Hard cover
190 pages
0.93 lbs
Item #20-503-H
Stories and Scripture lessons on courtesy, health and safety. Ages 7-14.
A book from the Miller Family Series. Also available in paperback.
Join the Miller children as they learn about health, safety, and courtesy...from the Bible! Each story includes a Scripture passage and illustrates various aspects of prudent living.
Read about the foolish joke that ended in tragedy; the embarrassing consequences of not getting enough sleep; how Timmy gets lost in a big store, and the Mother's Day fire!
Customers who bought this product also bought
Customers who viewed this product bought