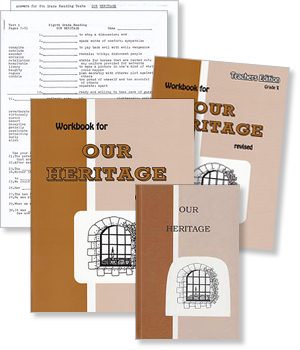 Grade 8 Pathway "Our Heritage" Set
This grade level contains 118 selections of stories and poems in 8 units (poems indicated by italics).
The teacher's edition is a reduced copy of the workbook with answers filled in. The sections in the reader titled "Thinking It Over" have questions to develop comprehension; there is no answer key for these questions.
The test packet includes 8 tests and an answer key sheet. The workbook teacher's edition will indicate when each test is to be taken.
Contents Unit 1: Our Heritage

Our Help in Ages Past
Church in the Pasture
Dirk Willems and the Thief Catcher
Faith of Our Fathers
A Bonfire of Books
Regina's Visit to Zurich
One Dark Night

Unit 2: True Values

The Bishop's Chairs
A Psalm of Life
The Spirit of Mortal
Writing on Sand
Crossing the Bar
Doubting Castle
All These Things
If This Were All Nobility
Home, Sweet Home
Better Than Gold
Lead, Kindly Light
The Little Things
Caught in the Quicksand
Song of the Rye
Conversation
The Tongue
Urho, the Boaster
Redeeming the Time
Peace Was Won
Parable of the Trees
Labor
An Average Fence
Because of Unbelief
Hundred Francs for a Song
Melvin's Trial
Ronald and the Piltdown Man
The Anvil—God's Word

Unit 3: People Who Served

Hundred Guilders for Menno
Schoolmaster on the Skippack
William Penn
Fanny Crosby, Blind Singer
Safe in the Arms of Jesus
Auctioned for Freedom
The Monk From Wittenberg

Unit 4: Thinking of Others

The World's Bible
I Made a Friend Today
The Kiskis
Brothers All
A Place for Everyone
Walk, Don't Run
The Golden Coin
Dying to Self
Lost Opportunities
The Ten Dollar Witness
Closed Lips
A Secret for Two
Old Sly Eye
Prayer
Moments
Mrs. Harris' Adjustment
Abou Ben Adhem
The Jokers
The Unsinkable Titanic

Unit 5: Nature's Wonders

The Creator
Spacious Firmament on High
Once in a Thousand Years
To a Waterfowl
When Birds Go North
The Winter Birds
An Iceberg
Miracle,
Rikki-Tikki-Tavi
Beyond Price
Love of Flowers
I Thank Thee, Lord

Unit 6: In Olden Days

The Bible
The Burial of Moses
One Against Four Hundred
Destruction of Sennacherib
A Worthy Woman
Overthrow of Belshazzar
My Father's Business
Carpenter's Son
Barley Bread
The Awakening
Good Tidings
Barabbas
Borrowed
Guard of the Sepulchre
On the Emmaus Road
Secret of the Catacombs
Philomena
Good Master
Suppose
Psalm 107

Unit 7: The Way of Love

The White Feather
The Battle of Blenheim
Another Commandment
The Man Who Could Not Yield
The Arrow and the Song
The Universal Language
A Smiling Paradox
An Ill Wind
Folks are the Same
The Homeless Hobo
The Invincible Leader
Peter Miller's Revenge
Mother, the Watcher

Unit 8: Home on the Farm

The Thunderstorm
Plowman at the Plow
Burning the Fallow
Spring on the Farm
Birds at Evening
The Daffodils
When the Rain Came
The Corn Crop
Chickens
Leisure
A Day in June
Why I Stick to the Farm
The Red Barn
The Barefoot Boy

Acknowledgments
Customers who bought this product also bought
Customers who viewed this product bought