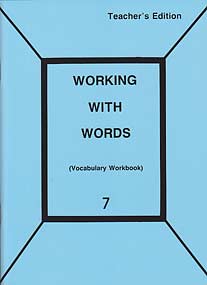 Grade 7 Pathway Vocabulary Workbook (Teacher's Edition)
Paper cover
96 pages
0.38 lbs
Item #2-729
Also available
used
$2.85
Workbook teacher's edition (a reduced copy of the workbook with answers filled in) for Grade 7 Pathway Vocabulary.
To help teachers pronounce the more difficult or tricky words correctly, the respellings of many words in this teacher's edition have been included. All the words with asterisks in the pupil's book, plus a number of others, have been marked. These respellings were taken from Webster's New World Dictionary (Student Edition).

Pupils should be encourage to check the dictionary for the pronunciation of words for their own benefit and education. However it is not considered advisable to have pupils copy all the respellings to be checked in class later. Dictionaries and pronunciation keys vary and trying to check such work causes many frustrations that should be avoided.

In the same way, the pronunciations in this book may be slightly different from those in your dictionary. Many words also have more than one pronunciation. If this was the case, several respellings are given if space is permitted. Teachers are still encouraged to check any word in question with the dictionary.
Customers who bought this product also bought
Customers who viewed this product bought