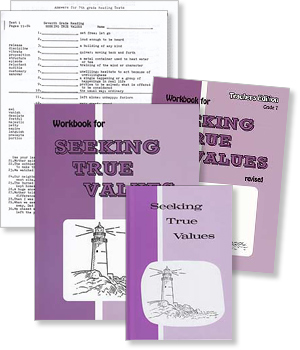 Grade 7 Pathway "Seeking True Values" Set
This grade level contains 111 selections of stories and poems in 9 units (poems indicated by italics).
The teacher's edition is a reduced copy of the workbook with answers filled in. The sections in the reader titled "Thinking It Over" have questions to develop comprehension; there is no answer key for these questions.
The test packet includes 8 tests and an answer key sheet. The workbook teacher's edition will indicate when each test is to be taken.
Contents

Unit 1: Moving Ahead

The Day We Lost the Game
Three Things to Remember
The Crop of Acorns
Only A Little Thing
We Plow The Fields
Who Plants a Seed
A Hard Day's Work
If All the Skies Were Sunshine
All For The Best
Halloween Boomerang
Please Him
The Tides of Providence
Where Love Is, God Is
Look Aloft

Unit 2: It Happened Long Ago

The Return of the Dove
The Link Between
Mary and Martha
Only Believe
One Thing I Know
A Ballad of Trees and the Master
Sign of the Fish
Forty Men for God
Jesus and Alexander
How Big Was Alexander?

Unit 3: Meeting the Challenge

The Gutenberg's Secret
It Couldn't Be Done
Bread To Cherish
A Plea
The Greatest Test
Where Shall I Work
God's Thoughts and Mine
No Turning Back
What Would You Do?
At the Crossroads
Stick-Together Families
One Minute Longer
The Wild White Rose
Gossip Town
The Simple Things
My Debts

Unit 4: In the Animal World

Coaly Bay, Outlaw Horse
What The Fawns Must Know
Evening at the Farm
The Humpy One
When the Cows Come Home
Lone Clearing
My Bird Sings
Love Among the Birds
Secret Things
The Little Birds of God

Unit 5: Helping Others

Charity
Three Lessons
Channels of His Love
Advertising For A Thief
Pass It On
Think Twice
I Shall Not Pass This Way Again
Road to Canada
What Is Success?
Somehow
Fair Exchange
Service
You Sent the Money
How the Great Guest Came
My Neighbor's Roses
If But One Year

Unit 6: Broadening Our Horizons

Who Hath a Book
Four Things
Region of the Gentiles
Great Plague of London
The Leak in the Dike
The Flickering Lantern
The Unbarred Door
The Johnstown Flood
The Forest Fire
The Village Blacksmith
Making Hay in the Olden Days
Anna and the Turkey Red
Twisters on Palm Sunday

Unit 7: Lives Worth Living

Benjamin's Message
Tinker of Bedford
No Monument for George
The Pioneer
Samuel Marsden
Traded for a Horse

Unit 8: Appreciating Our Past

Trek Across the Mountains
Baptized by Fire
Mistaken for a Pirate
Collar on the Wall
Horses in the Barley
Afterwards
Chimney Soot and Pokeberry Juice
The Old Lamp

Unit 9: Seeking True Values

The Bible
Friends are Like Flowers
Place of Deliverance
An Easter Canticle
Bless Them that Curse You
April
The Kite
The Gallant
A Home Song
A Song From the Suds
Just for the Thrill of It
A Shopping Trip
Lost Hour
Dollar Bill Mystery
A Thunderstorm
Remember Now Thy Creator
Farmer John
Thanksgiving

Acknowledgments
Customers who bought this product also bought
Customers who viewed this product bought