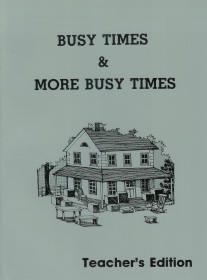 Grade 2 Pathway "Busy Times" and "More Busy Times" Workbooks (Teacher's Edition)
Soft cover
180 pages
0.7 lbs
Item #2-229
Workbook 1 and 2 teacher's edition (a reduced copy of the workbook with answers filled in) for Grade 2 Pathway Reading Series.
Busy Times and More Busy Times and their accompanying workbooks were prepared especially for second graders in Amish Parochial Schools. The stories in the textbooks are true-to-life and relate incidents that could happen to any Amish child, thus making it easy for the children to identify with and understand the stories. Most of the stories teach lessons in virtues that are upheld by the people of our faith.

The teacher should discuss each story with the children, thus helping the children understand the lesson. It is only when the children thoroughly understand the moral of a story that it leaves a lasting impression.

There are always at least three workbook pages for each story in the textbook. (The first several stories have extra phonics pages, to help the children review the sounds which were introduced in the first-grade books.) The first page for each story, "Working with Words," should be assigned before the story is read. On these pages the children work with the new words that appear in the story.

The "Learning through Sounds" pages may be assigned anytime the children need the work or have time to do them. There is no direct connection between these pages and the story in the textbook, although many of the words and all of the sounds that the children learn then also appear in the text. Special care should be taken that the children keep up with the sounds that are introduced. The teacher should give as much review work, oral work, and extra drill as the children need to thoroughly learn each sound as it is introduced.

The "Thinking about the Story" pages should be done after the story has been read in class. In most cases the children should be able to do the work on all the workbook pages by themselves, although there may be individuals that need help. The pupils should be encouraged to use their textbooks to find the answers, rather than asking for the teacher's assistance.

Since learning to read is laying the foundation of a child's education, this subject's importance cannot be overemphasized. It must be taught with enthusiasm, and a teacher should not relax until every one of her second graders likes reading.
Customers who bought this product also bought
Customers who viewed this product bought