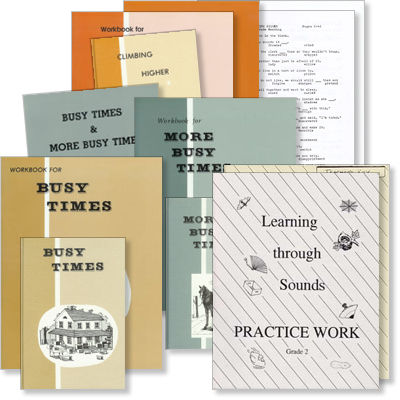 Grade 2 Pathway Reading Series Set
This grade includes 3 readers containing 68 lessons in 14 units.
The teacher's editions are a reduced copy of the workbook with answers filled in.
Tests are included at the end of the first two workbooks, to be taken after completing a unit in the reader. The third workbook has a separate test packet, with each test to be taken after completing the reader pages indicated on the test.
The Learning Through Sounds Practice Work workbook is designed to review the phonics concepts learned in first grade, and should be scheduled according to the teacher's discretion.
Flow Chart (left-to-right):
Busy Times

Unit 1: Summer Fun

A Warm Day
A Good Dog
Rover and the Wagon

Unit 2: Whiskers

A Pet Goat
The Goat Cart
Whiskers and the Cart
Peter Forgets
Good-by, Goat Cart

Unit 3: Living Together

New Work for Peter
The Golden Rule
Rachel's Candy
Andrew and the Cats
The Working Bee

Unit 4: New Neighbors

The Only Girl
Getting Ready to Move
A Busy Day
The Long Ride
The New Farm
An Evening with Peter and Rachel
Home at Last

Unit 5: A Happy Home

"We Want a Pony!"
The New Bat
"Who Broke the Bat?"
Nancy Makes Things Right
More Busy Times

Unit 1: Family Times

"What's Wrong with Rachel?"
Peter's Plan
A Special Day
Grandfather Plays Doctor
Another Special Day

Unit 2: Grandfather's Stories

The "Wolf" Story
The "Doll" Story
The "Doll" Story (Part 2)
The "Grandmother" Story
The "Finders-Keepers" Story

Unit 3: Growing Up

The Smallest Girl
A Hard Day for Nancy
Nelson's Problems
Nelson and Dr. Wood

Unit 4: Peter and His Money

Peter's Bank
Peter Learns a Lesson
Peter Finds a Way
Trapping Mice
A Trap for Peter

Unit 5: It Happened at School

Susan and Her Friends
A Friend for Susan
Susan Tries
Levi's Extra Fun
The Bobsled Bus
Climbing Higher

Unit 1: Day by Day

Too Little
The Pet Pigeon
Erma's Secret
The Red Airplane

Unit 2: Lessons to Learn

Verna's Vacation
An Eraser and a Ruler
Two Heavy Pennies
Wilma Waits for Help
The Boy in the Wagon

[Note: This story is about an encounter with a handicapped child, and it makes the point that having good health is more valuable than having toys. However, it is written in a way that is very insensitive to its impact on those who are actually faced with the special challenges of handicaps, as well as missing the opportunity to help able-bodied children gain a more God-honoring view of those with special needs.]

Unit 3: Learning About Animals

The Animal of Surprises
A Giant and Its Baby
The Camel Bird
The Purple Martin
Honeybees

Unit 4: Climbing Higher

The Boy Who Was Afraid
The Missing Cupcakes
Joseph Tattles on Himself
Melinda Learns to be Thankful
Cows Are Cows
Customers who bought this product also bought
Customers who viewed this product bought