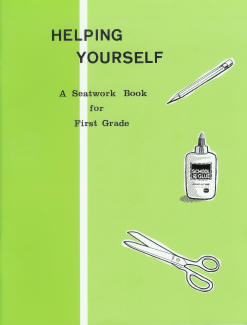 Grade 1 Pathway "Helping Yourself" seatwork book
Soft cover
88 pages
0.5 lbs
Item #2-122
Workbook for Grade 1 Pathway Reading Series.
Designed especially to complement Learning Through Sounds, Book 1. Instructions are provided on each page, and no separate teacher's manual is necessary.
To the teacher...

This workbook is a seatwork book that has especially been prepared for the benefit of busy teachers in Amish and Mennonite parochial schools and their not-so-busy first graders. Compiled by a veteran Pennsylvania teacher, it is designed to be used during the first weeks of the term, along with the phonics book Learning Through Sounds. You will notice that the first twelve pages are primarily pencil and cut-paste lessons, and from then on there are two pages for each letter of the alphabet, taken in the same order they are introduced in Learning Through Sounds. However, this book can be used with other phonics programs, providing the pages are given in an order to comply with the other material being used.

With perhaps a few exceptions, every other page is a cut-and-paste exercise. This is for several reasons. First, children can not print neatly until they have developed good hand coordination. Learning to use a scissors helps to develop this coordination. Second, though a bit messy, cutting and pasting is a time-consuming and enjoyable pastime for first graders. Like in anything else, they can be trained to be neat with this. Stress only using a little bit of glue or paste, and cleaning up their mess when they are finished.

There is no teacher's manual for this seatwork book. Simple instructions are include on each page, and each lesson is designed so that the pupils can work independently without much help from the teacher. In short, it is to keep the children busy without making the teacher busier.
Customers who bought this product also bought
Customers who viewed this product bought