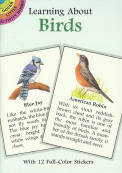 Learning About Birds - Booklet
Paper cover
12 pages
0.06 lbs
Item #16-2-6917
4 1/16" x 5 3/4"
Youngsters and bird lovers of all ages will enjoy this hands-on activity book. Included are 12 full-color stickers on 2 plates depicting a flock of familiar birds:
American Goldfinch
White-breasted Nuthatch
Tufted Titmouse
North Cardinal
Downy Woodpecker
Northern Oriole
Red-winged Blackbird
Eastern Bluebird
House Sparrow
Scarlet Tanager
Blue Jay
American Robin
On each page of the book, readers will find a concise, easy-to-read description (color, size, habitat and other information) of one of the birds, along with a space for a sticker. As children learn about each bird they place the appropriate sticker in the space provided. It's a great way to have fun while absorbing a wealth of information about the birds around us.
Customers who bought this product also bought
Customers who viewed this product bought