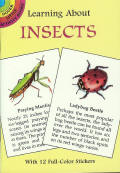 Learning About Insects - Booklet
Paper cover
12 pages
0.06 lbs
Item #16-2-6882
4 1/16" x 5 3/4"
This fact-filled little guide introduces you to 12 fascinating insects. Inside, each easy-to-read page describes a different insect:
Praying Mantis
Ladybug Beetle
Monarch Butterfly
Red Ant
Horse Fly
Pyralis Firefly
Bumblebee
Sandhills Hornet
Green Darner
Differential Grasshopper
Cockroach
Mosquito
You'll also find 12 colorful sticker illustrations of the insects and a blank space on each page where you can place the correct sticker. Ideal for home or school, Learning About Insects lets you have fun illustrating your own book while learning about some of the most common—and plentiful—members of the animal kingdom.
Customers who bought this product also bought
Customers who viewed this product bought