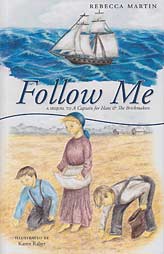 Follow Me (Book 3) - [Rebecca Martin Heritage Series]
Paper cover
186 pages
0.6 lbs
Item #14-RM362
Book 3 of the Rebecca Martin Heritage Series. A sequel to The Brickmakers.
Twelve-year-old Daniel Miller hardly knew how to feel about his parents' plan. Would they really cross the ocean to the land of William Penn? What an exciting idea!
Yet Daniel, grandson of the Hans Miller you first met in A Captain for Hans, and son of the Peter Miller you met in The Brickmakers, likes his snug home in the German Palatinate. An ocean voyage looks scary. And besides, what of his crippled friend, David Burkholder? He would never be able to go. And Daniel, along with his older brother Aaron, could not bear the thought off leaving him behind.
Table of Contents

Foreword
1. Supper from the Stream
2. Holy Experiment
3. Help from Erich
4. David Burkholder
5. The Young Penn
6. Penn the Quaker
7. Visitor from America
8. True Freedom
9. Andrew Egli
10. More News from Pennsylvania
11. A Gift for Jonas
12. One Stormy Day
13. Erich's Offer
14. Because of a Tree
15. A Visit to the Castle
16. Set Free
17. Decision
18. Spring Comes
19. A Better Country
20. Together Again
21. Leave-Taking
22. On the River
23. Dutch Friends
24. Heading for the Channel
25. Land's End
26. In Him Was Life
27. New Life
28. Land-ho!
29. Freedom for Aaron
Customers who bought this product also bought
Customers who viewed this product bought