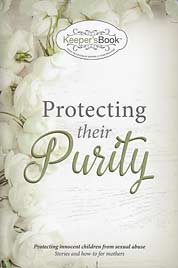 Protecting Their Purity (Volume 7) - "Keeper'sBook Series"
Paper cover
186 pages
0.69 lbs
Item #14-KB676
Buy more for less:
1-4

items

$14.99

/ each

5

or more items

$13.49

/ each

save

10%
A Keeper'sBook from the editors of Keepers at Home Magazine.
Protecting innocent children from sexual abuse: Stories and how-to for mothers
This book is intended for adult reading.
Protecting children from a lifetime of struggles with
Fear
Shame
Guilt
Relationships
Depression
Sexual abuse.
What can be done to prevent it? How can we protect innocent children from its emotional, physical, and spiritual consequences? Are there ways to shield them? Should we talk about sexual things? When? How much?
The seventeen authors of Protecting Their Purity provide biblical encouragement and practical answers to one of the most important parenting questions of our day. Many of them have experienced abuse personally. In Protecting Their Purity they offer how-to, encouragement, and most of all, hope. Hope for mothers of children and teenagers who take seriously their responsibility to protect their daughters' purity.
See also:
Table of Contents

Dear Daughter
Where Are the Mothers?
Keeping the Vision While Mopping up Milk
Trauma
Protecting the Innocent
In Matters Great and Small
My Little Child's Plea (poem)
Who Are Abusers? Dispelling the Myths
Protecting Our Daughters
Because I Love Her
Layers of Prayer (poem)
Come! Stand in the Light
Cultivating a Relationship of Gold
Dear Mod and Dad
Preventing Sexual Abuse in the Home
More Than Cows and Babies
What Would You Do If...?
Consequences and Change
Amy's Dilemma
To a Child at Night (poem)
As a Roaring Lion
If Any of You Lack Wisdom
Are "Christian" Romance Books for the Christian?
A Letter to My Daughter
Recognizing Families of Incest
The Spirit of Fear
Preventing Sexual Abuse in Schools
Resources
Customers who bought this product also bought
Customers who viewed this product bought