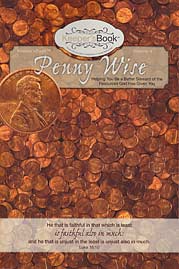 Penny Wise (Volume 4) - "Keeper'sBook Series"
Paper cover
138 pages
0.53 lbs
Item #14-KB430
A Keeper'sBook from the editors of Keepers at Home Magazine.
Helping You to Be a Better Steward of the Resources God Has Given You
Packed with inspiration and information that will help you be a better steward of the time, money and talents God has blessed you with. 32 articles by 22 authors.
Table of Contents

Penny Pinchers
Pinching Pennies
Stewardship, Sense, and Self-Discipline
Insight from Grandma Martin
How to Save $124.34 a Day!
Mismatched Butter Plates
Understanding Sales Cycles
A Penny Saved
Ledges for Joy
How Pennies Pinch
Merely an Apple Pie
Winning at the Grocery Game
A Frugal Lifestyle
When Cardboard Won the War
A Penny Wise Garden
Shopping? We Live Off the Land
Cooking on a Shoestring
How Do You Manage?
Immortal Riches
Building a Marriage Without Draining Your Wallet
The Cheap Blues Cure
Faith in Twenty-Five Cents
The Botched Budget
Habits and Money
Four Levels of Financial Planning
How to Create a Family Budget
A Financial Word to Wives
15 Tips to Avoiding Financial Pitfalls
Defining and Achieving Financial Freedom
A Tightwad Writer's Dilemma
A Lesson from the Apple Orchard
Confusing Conclusions
Resources
Customers who bought this product also bought
Customers who viewed this product bought