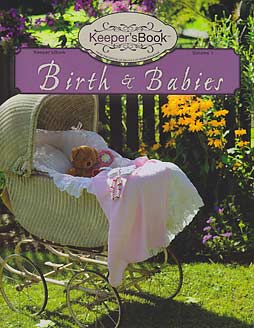 Birth and Babies (Volume 1) - "Keeper'sBook Series"
Paper cover
64 pages
0.46 lbs
Item #14-KB218
A Keeper'sBook from the editors of Keepers at Home Magazine.
In response to the hundreds of readers who have asked why Keepers at Home Magazine doesn't publish more than 4 issues a year, we developed the Keeper'sBook Series. Packed with over 40 articles from 36 Keeper's at Home readers and writers, Birth & Babies gives readers 64 pages of encouragement, how-to, stories and information—all about birth and babies! Birth & Babies feels, looks, and reads like Keeper's at Home Magazine, but it's a book.
Table of Contents

To Our Little Ones (poem)
Motherhood
With Child (poem)
The Time of Life
My Big Babies
Anything but Ordinary
Better Birth
A Word from the Womb (poem)
Common Pregnancy Complaints
What Shall We Name the Baby?
My Labor Petition (poem)
Coping with Labor
While Rejoicing
Dear Son
The Fruit of the Womb Is His Reward
Peace-Filled Birth
Diapering Tips
Why Breast-Feed?
Nursing Helps for Mothers
Beating the Blues
The Birthplace (poem)
My Struggle with Low Milk Supply
Potpourri of Nursing Tips
Herbs That Help Babies
Cloth Diaper Duty
How to Potty Train in One Day
Sunshine Boy (poem)
Potty Woes
Too Much! (poem)
Human Fertility, Preface
How Our Reproductive System Works
Consequences of Artificial Birth Control
First Days (poem)
Not My Will, But Thine
Is All Milk Equal?
Our Experience with TTTS
Pure Delight (poem)
Giving Them Back
Little One Gone (poem)
Precious in His Sight
What Is the Lesson, Lord?
Resources
No Wish for More (poem)
Passage (poem)
Customers who bought this product also bought
Customers who viewed this product bought