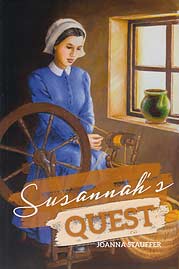 Susannah's Quest
Paper cover
246 pages
0.92 lbs
Item #14-720
A story of hope in adversity
"Only a Heckendorn," they said.
All her life Susannah found herself struggling to overcome the stigma of being one of John Heckendorn's daughters.
"Too lazy to work," people said. "He'd rather roam the woods like an Indian. No wonder they're so poor."
And poor they were. Poor, that is, in everything but children. Of children there were eleven and most grew up in other homes throughout the community.
Among them was Susannah. As a young girl she found herself forced to live with the Martins, a prosperous Mennonite family—fine Christian people. Or were they? Susannah learns early on that appearance can be deceiving.
Susannah's Quest is a true story, a sad story, a troubling story. It's a story of hardship, emotional struggles, and sadly of church problems.
And yet, Susannah's story is also a story of hope. Despite adversity, she rose above her past and finds peace and contentment in yielding to the will of God.
Contents

Prologue
Living with the Martins (circa 1885)
If Wishes Were Dishes
Pioneer Pains
Never Good Enough
A Broken Nose
Change in the Air
Iowa Community Begins
Ontario Turmoil
Diphtheria
New Faith and Large Fears
Divine Deliverance
Safety
An Adult Pupil
Betsy Insists
A Knitting Party
Susannah's Longings
A Letter
Susannah's Answer
The Third Letter
A Brave Reply
Waiting
Preparations
The Wedding
May City, Iowa
A New Beginning
Fitting In
The New Home
Learning to Be Thankful
Unrest
Blizard
A Welcome Spring
Problems
Pneumonia
Feeble Trust
Moving Plans
Leaving Iowa
On the Train
Snyder County, Pennsylvania
Relocating
Dark Memories
Baby Jacob
A Miracle for Joseph
Petitions
Oh, Maggie
Grief
Life Continues
Hard Times
A New Calling
Unrest
War
Moving On
Epilogue
Bibliography
keywords: Susannahs
Customers who bought this product also bought
Customers who viewed this product bought