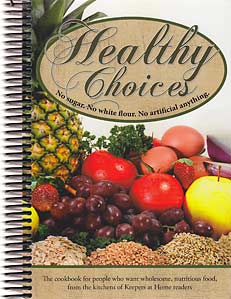 Healthy Choices - cookbook
Paper (plastic coil bound) cover
454 pages
1.7 lbs
Item #14-126
No sugar. No white flour. No artificial anything.
The cookbook for people who want wholesome, nutritious food, from the kitchens of Keepers at Home readers.
Are you looking for a common sense approach to a healthier lifestyle? The publishers, with contributions from the Keepers at Home readers, compiled Healthy Choices Cookbook to help you provide nutritious food for your family and friends. The recipes in Healthy Choices are sugar-free, use no white flour and don't ask for artificial ingredients. In the long run, no one maintains vibrant, growing health on radiated, fumigated, pasteurized, homogenized, chemical-laden, and nutritionally dead food. Living cells require living foods.
While its sometimes hard to decide the exact place where dead food stops and healthful food starts, and certain foods "don't agree" with some people as they do with others, Healthy Choices with its 1,093 recipes offers a wide range of traditional and modern recipes that help you protect, maintain and encourage the good health God gives you and your loved ones. Take the first step toward better health—start with healthy food choices.
Table of Contents

Beverages
Breakfast
Breads
Sourdough
Salads & Dressings
Cooking with Herbs
Meats
Meat Substitutes
Casseroles
Side Dishes
Soups
Pizza & Sandwiches
Dairy
Lacto-Fermented
Cakes
Cookies
Pies
Desserts
Dips, Spreads & Salsa
Snacks
Campfire Cooking
Canning
Dry Seasoning Mixes
Soaps & Cleaners
Home Remedies
Gardening Solutions
Index
Customers who bought this product also bought
Customers who viewed this product bought