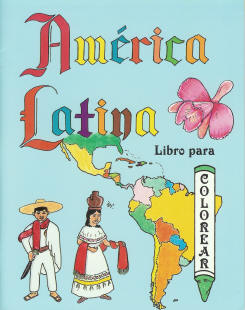 América Latina Libro para Colorear [Latin America]
Latin America Coloring Book | Spanish Edition
Engrapado. 64 pagínas.
Pedro Hoover escribió este material e hizo los dibujos que aparecen en el mismo. Los dibujos se componen de las formas de los países como tam­bién los animales, las plantas, los productos... de ellos. Una página o más está dedicada a cada país o grupo de islas. Mientras los niños colorean el libro van conociendo la cultura de la gente de esos países. Se considera que ellibro es muy apropiado para el niño de la escuela primaria. La cubierta se imprimió a todo color.
---
Have your children get acquainted with people and lands of West Indies, Mexico, and Central and South America while they color. One or more 8 1/4th X 10 1/2 pages feature a map of each country, its native plants and animals, and its people and products. Very educational. Appropriate for elementary-aged children.
Customers who bought this product also bought