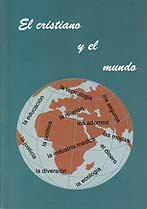 El cristiano y el mundo [The Christian and the World]
Paper cover
122 pages
0.27 lbs
Item #1-S2479-1
Spanish edition of The Christian and the World.
---
Dios ha llamado a cada cristiano a salir de en medio del mundo. Aunque ya no somos del mundo, es el plan de Dios que vivamos en el mundo.
Pero el cristiano verdadero parece algo inadaptado en la sociedad mundana. Sus metas y sus prioridades son diferentes de las del mundo. El cristiano tiene otra apariencia, otro comportamiento, otra manera de hablar y aun otra manera de pensar que los de una persona mundana. Sin embargo, a pesar de todas estas diferencias tiene que seguir relacionándose con los del mundo, porque vive, trabaja y testifica en el mundo.
¿Cómo debe el cristiano relacionarse con la educación, la economía, la política, la diversión, la economía, la política, la diversión, los seguros, la tecnoligía y las modas del mundo? ¿Cómo podemos vivir en el mundo sin llegar a ser mundanos?
Customers who bought this product also bought
Customers who viewed this product bought