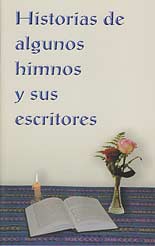 Historias de algunos himnos y sus escritores [Hymn Stories and Writers]
Paper cover
27 pages
0.102 lbs
Item #1-S2417-1
(Stories of Some Hymns and Their Writers)
Experiences and happenings that produced the poems for eight songs. A copy of each song is included.
---
Los cánticos a las que se hace referencia en esta publicación pueden hallarse en uno o más de los siguientes libros: Himnos De La Iglesia, Himnario Cristiano, Himnos De La Vida Cristiana.
La información que utilizamos para la escritura de estos relatos fue recopilada de Las Historias Verdaderas De Himnos Famosos, por la Baker Book House; de Historias De Los Himnos, por Alfred Smith; y de El Diccionario de la Cristianidad en la América, por la Intervarsity Press.
Contenido

Dame, mi buen Señor
La merced de nuestro Padre
Tal como soy
Castillo fuerte es nuestro Dios
¡Cuán grande es Él!
¡Conmigo sé!
Al Cristo vivo sirvo
Salvo en los tiernos brazos
Customers who bought this product also bought
Customers who viewed this product bought