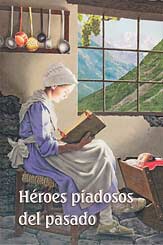 Héroes piadosos del pasado [Godly Heroes of the Past]
Paper cover
101 pages
0.61 lbs
Item #1-S2199-1
Spanish edition of Godly Heroes of the Past.
---
No es siempre fácil ser un cristiano. Hace años, muchas personas sufrieron por su fe en Cristo y por su obediencia a Su Palabra. Algunas fueron forzadas a dejar su hogar. Otras fueron separadas de su familia. Y otras más perdieron su vida.
Héroes piadosos del pasado es una colección de historias conmovedoras acerca de algunos héroes fieles. Incluye historias acerca de los anabaptistas y valdenses, además de varias acerca de los apóstoles. Están escritas en una manera sencilla especialmente para niños. Cada historia es bellamente ilustrada con un cuadro que les dará a los niños un vistazo preciso de las vida hace muchos años.
Contenido

1. Dirk ama a su enemigo
2. Andrés enseña la Palabra de Dios
3. Andries lee la Biblia
4. Claudina canta de gozo
5. Elizabet y Adalina obedecen a Dios
6. Cuanto más enseñaba Jorge
7. Greta esconde la Biblia
8. Jacques se para solo
9. Leonardo no jura
10. Maira ama más a Dios
11. Meno habla de Dios
12. Herman tiene paz
13. Valentín le pide a Dios
14. Simón no se mueve
15. Guillermo muestra el camino
16. Mateo ayuda a sus enemigos
17. Santiago perdona
18. Pablo gana la carrera
19. Pedro vuelve
20. Esteban gana una corona
21. Juan es amigo de Jesús