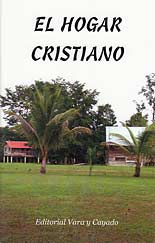 El Hogar Cristiano [The Christian Home]
Soft cover
48 pages
0.134 lbs
Item #1-S2170-13
Spanish edition of The Christian Home.
---
Engrapado. 48 páginas.
Condensado y escrito de nuevo par Mervin J. Baer. Este libro se considera de valor para los que desean tener hogares verdaderamente cristianos. Este escrito explica los deberes de toda la familia: el esposo y padre, la esposa y madre, el niño, el joven y la señorita. Permita que refuerce su hogar.
Customers who bought this product also bought
Customers who viewed this product bought