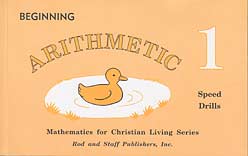 Grade 1 Math [PREV EDITION] Speed Drills
Speed drills for Beginning Arithmetic previous edition (1991) (features counting ducks in a pond). This edition is not compatible with the current 3rd edition (2011).
This small tablet of 72 speed drills provides timed practice of addition and subtractions facts. These drills begin at lesson 28 and continue through lesson 170. Speed drills are to be given every other day. Directions for using this tablet are on page 6 of the teacher's manual.
Customers who bought this product also bought
Customers who viewed this product bought