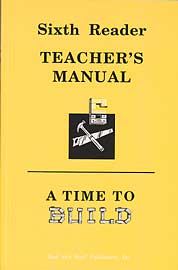 Grade 6 [PREV EDITION] Reader Teacher's Manual
Soft cover
178 pages
0.58 lbs
Item #1-P-11691
Teacher's manual for A Time to Build reader.
This previous edition item is not normally stocked, and may take up to 2 weeks before shipment. A used copy may be available to ship.
This book is not needed if the revised workbook and accompanying teacher's manual are used instead.
The teacher's manual has general helps for teaching the course, as well as practical helps for each lesson. These include suggestions for class discussion to improve comprehension, pointers for oral reading, and information on the vocabulary words. There are also suggested answers for the exercises in the reader.
Customers who bought this product also bought
Customers who viewed this product bought