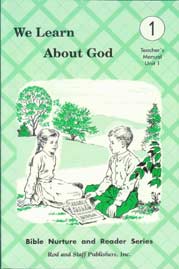 Grade 1 [PREV EDITION] Reading Teacher's Manual Unit 1
Soft cover
327 pages
0.98 lbs
Item #1-P-11191-3
Teacher's manual for Grade 1 Reading 2nd Edition (1985-1986). This edition is not compatible with the current 3rd edition (2016).
This manual has all the essential material you need to teach the course. The first part of the book gives instructions for the phonics, and the second part for the reading.
I encourage you to read all the introductory material so you get the layout of the teacher's manual. It will save you time in the long run because you will know exactly where to go so you can find what you need.
Customers who bought this product also bought
Customers who viewed this product bought