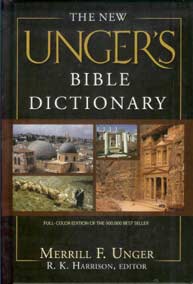 The New Unger's Bible Dictionary
Hard cover
1408 pages
4.1 lbs
Item #1-N-6595
Unger's Bible Dictionary has been one of the best-selling Bible dictionaries since its introduction in 1957. Now this time-honored classic is more valuable than ever. Updated and expanded by respected Bible authorities including R. K. Harrison, Howard F. Vos, and Cyril J. Barber, The New Unger's Bible Dictionary is packed with the most current scholarship. It includes:
More than 6,700 thoroughly researched entries
Exhaustive treatment of persons and places in the Bible
Major articles treating individual Bible books and their authors
New photography, including 380 full-color photographs
More than 100 new illustrations and 48 maps to supplement the detailed text
Full-color, 16-page, map insert
Cross-referencing to facilitate study of related words and topics
Modernized pronunciation guides
Up-to-date scholarship concerning archaeology, geography, and history
Updated bibliographies
This bestseller is based on the New American Standard and contains extensive cross-referencing, making it useful with all major Bible translations, including the New International, King James, and New King James versions.
Whatever Bible translation you enjoy, you'll want this study guide close by. It's a perfect companion for any student of the Bible!
Customers who bought this product also bought
Customers who viewed this product bought