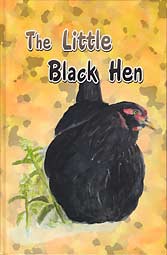 The Little Black Hen
Hard cover
208 pages
1.03 lbs
Item #1-2870
Words are broken into syllables to help the beginning reader.
Beth and Fred have a special pet. Their pet has a big surprise for them. A wholesome, captivating little story of how God cares for a hen and her little chicks as they grow up. Written for young readers and contains hyphenated, multi-syllable words and lots of repetition. Full-color illustrations.
See also: Mother Hen and Her Ten.
Contents

1. Beth and Fred
2. The Hen Is Lost
3. Fa-ther and the Se-cret
4. God's Plan
5. The Sur-prise
6. Moth-er Hen and Her Chicks
7. The Lost Chick
8. Moth-er Hen and God
9. The Miss-ing Chick
10. The Sev-enth Chick
11. Lit-tle Hens and Lit-tle Roost-ers
Customers who bought this product also bought
Customers who viewed this product bought