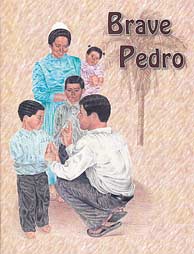 LJB - Brave Pedro
Soft cover
24 pages
0.14 lbs
Item #1-2794
Little Pedro from Paraguay needs to have a series of shots to help his body heal from a disease. Will he be brave through the whole ordeal as God heals his body?
This is Pedro. He lives with his family in Paraguay.

When Pedro was almost six years old, he became very sick.

Father drew Pedro onto his lap.

Pedro rested his feverish head against Father's chest. Father took Pedro's thin hand in his big, strong one. Pedro closed his dark eyes. He felt so safe to be in Father's arms.

...
Customers who bought this product also bought
Customers who viewed this product bought