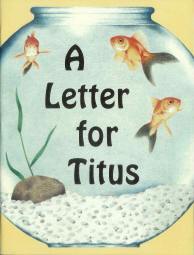 LJB - A Letter for Titus
Soft cover
24 pages
0.14 lbs
Item #1-2791
Randy is happy with the fish Grandfather gives him. What happens when Randy's cousin Titus accidentally squirts some cleaning liquid into the fishbowl?! Randy needs to learn to forgive even when it hurts.
Randy watched as Father poured the tiny stones into the bottom of the fishbowl and smoothed them out. Then Father placed a big red stone in one corner and a plastic weed in another.

"That's pretty!" Randy exclaimed. "Now are we going to put water in it?"

"Yes," Father answered. "We'll let the water stand overnight so we can be sure it's not too hot or too cold, and then tomorrow we'll put the fish into their new bowl."

Randy could hardly wait to see....
Customers who bought this product also bought
Customers who viewed this product bought