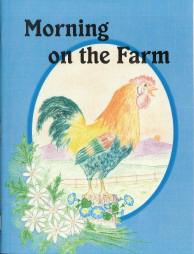 LJB - Morning on the Farm
Soft cover
32 pages
0.17 lbs
Item #1-2788
Each page is beautifully illustrated with appropriate poetry.
Er-er-er!
The rooster likes to be the first
To see the sun arise;
He stands on tiptoe and wakes up
The farmyard with his cries.

Moo, moo, moo!
The cows rise from green, grassy beds
And swing their twitchy tails.
They crunch on grain and munch on hay
While milk zings in the pails.

...
Customers who bought this product also bought
Customers who viewed this product bought