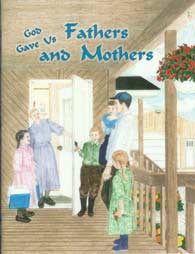 LJB - God Gave Us Fathers and Mothers
Soft cover
24 pages
0.14 lbs
Item #1-2785
Our Fathers

God gave us fathers, wise and strong;
Wise fathers teach us right from wrong.
Strong fathers work to bring us food;
They help us to be kind and good.

...

Our Mothers

God gave us sweet mothers to love us each day;
They teach us to work; they join in our play,
They read us our stories and help us to sing,
And teach us of God, who made everything.

...
Customers who bought this product also bought
Customers who viewed this product bought