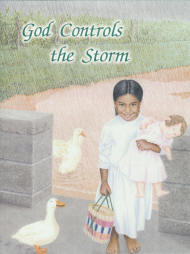 LJB - God Controls the Storm
Soft cover
24 pages
0.14 lbs
Item #1-2783
Join Iris, a young girl of Guatemala, as she experiences a tropical rainstorm. Some Spanish vocabulary words in italics are woven into the story. Pronunciation and definition are given in the footnotes.
Iris is a little girl who lives in Guatemala. She is five years old.

She lives with her papá, her mamá, and her two little brothers, Esteban and Paquito.

...
Customers who bought this product also bought
Customers who viewed this product bought