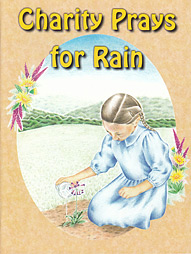 LJB - Charity Prays for Rain
Soft cover
32 pages
0.17 lbs
Item #1-2781-3
After two months without rain, the land is very dry, and the crops will fail if the drought continues. Charity's faith in God is strengthened when, in answer to her prayer, He sends the much-needed rain to water the fields and her special plant.
Five-year-old Charity opened the front door and stepped outside, a cupful of water in her hand. As she left the shady porch, the summer sun felt very warm on her face.

"Come back indoors soon, Charity," Mother called after her. "It's too warm to be outside very long."

"I will," Charity promised, making her way to the little plant that was growing beside the driveway.

This plant was very special because the seed had come from Grandmother.

...
Customers who bought this product also bought
Customers who viewed this product bought