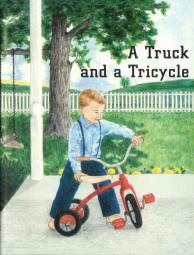 LJB - A Truck and a Tricycle
Soft cover
24 pages
0.14 lbs
Item #1-2775
After a hard lesson, Samuel learns carefulness and consideration for others.
Samuel backed his toy truck to his pile of blocks, and loaded them on the back of it.

Then he pushed the truck across the floor.

He planned to use the blocks to build a farm in the corner of the room.

...
Customers who bought this product also bought
Customers who viewed this product bought