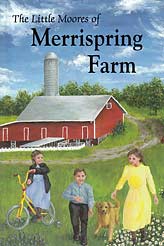 The Little Moores of Merrispring Farm
Soft cover
20 pages
0.64 lbs
Item #1-2612
Life at Merrispring Farm takes an unexpected turn one morning when Alan notices a problem with his neck. It feels tight and thick.
For four-year-old Alan, the days spent in the hospital are frightening and tiresome. But Mother reminds him that God is with him. "And maybe," she says, "there are sick children in Mercy Hospital who have never heard about Jesus. Maybe God wants us there to tell those children about Him."
Whether in Mercy Hospital or at home on Merrispring Farm, Alan, Lora, and Lois learn about God's care for them. They learn about sharing God's love with other children who don't have the blessings they do. And along the way, they also learn other helpful lessons about how to live Jesus' way.
Written for four- to seven-year-olds.
Contents

1. Alan Belongs to God
2. Inside Mercy Hospital
3. Alan Meets Dr. Sheldon
4. A Walk in Mercy Hospital
5. Visitors for Alan
6. Alan Goes Hunting
7. Making Others Happy
8. A Cheerful Giver
9. A Different Sunday School
10. Working for Jesus
11. "Who Is Jesus?"
12. Going Home
13. God Is Watching
14. What Is Foster?
15. Grandfather's Story
16. Here Comes Wanda
17. A Happy Sunday
18. The Family Who Did Not Pay Rent
19. New Neighbors
20. God Helps Katy Cat
21. Balloon Trouble
22. Making the Right Choice
23. A Gift from God
24. A Visit With Billy
25. No Peppermints!
26. Mother's Helpers
27. Time to Go
28. Merrispring Farm
29. Grandfather Stewart Goes Home
30. Why Didn't He Cry?
31. Lora Goes to School
32. The Ugly Scratch
33. Work to Do Good
34. It Was Not Fun
35. A Happy Thanksgiving Day
36. Irreverent to God
37. The Best Place to Live
Customers who bought this product also bought
Customers who viewed this product bought