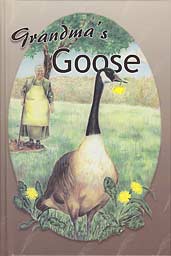 Grandma's Goose
Hard cover
188 pages
0.82 lbs
Item #1-2592
On that lovely spring morning, life was as normal at Grandma's house—until Polly barked. Then Grandma had a surprising interruption that changed her summer.
Was it possible for Grandma to raise a wild baby goose? Grandma didn't know, but she decided to try. So the little goose wholeheartedly joined Grandma's household, and the summer that followed was an unforgettable experience of frustration and delight.
Reading this true story about Sophie will open your eyes to the incredible wisdom of God in the details of His handiwork. This story, written for six- to ten-year-olds, will captivate the entire family.
Contents

1. Sophie Is Rescued
2. Where Is Sophie's Family?
3. Sophie Finds a New Home
4. Sophie in the Kitchen
5. Sophie Outside
6. Sophie on Sunday
7. No Pen for Sophie
8. Observing Sophie
9. What Is Wrong With Sophie?
10. Polly Wants Sophie
11. Sophie in the Garden
12. Sophie out of the Garden
13. Sophie Bosses a Visitor
14. Sophie Moves Outside
15. Sophie and the Family Gathering
16. Sophie Goes Visiting
17. Sophie and the Pets
18. Sophie Learns to Fly
19. Sophie Is Lost
20. Sophie Gives a Scary Ride
21. Sophie Goes Swimming
22. Sophie in the "Hospital"
23. Sophie Flies High
24. Sophie Meets Her End
Customers who bought this product also bought
Customers who viewed this product bought